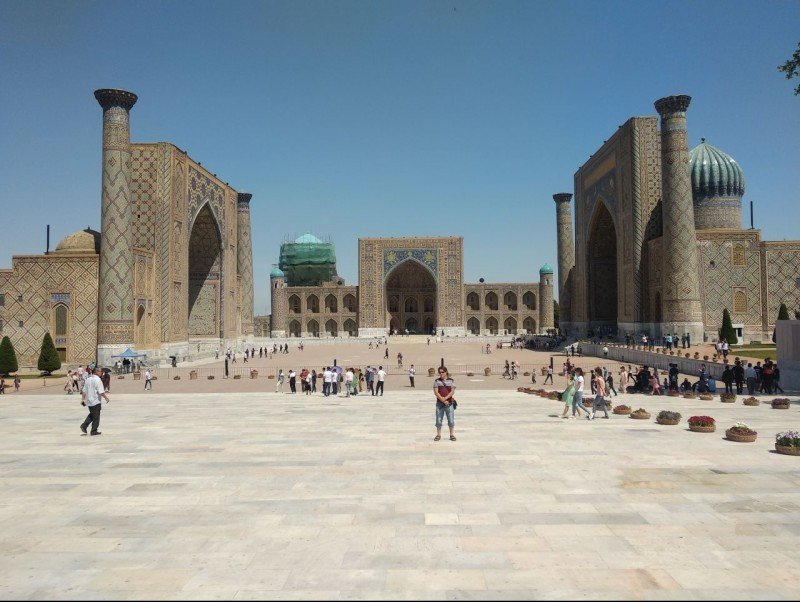 9 Days Winter and Culture tours
Visiting Central Asia in the middle of winter is an extraordinary experience. The high tourist season has already passed, and the most beautiful sights of Uzbekistan present themselves in their peaceful appearance. The clear air of winter gives a special shine to historical monuments. This season the most beautiful and most prestigious sights of Uzbekistan whose ski resorts await you.
Located in the middle of the Great Silk Road, Uzbekistan is known not only for its historic cities like Samarkand, Bukhara and Khiva, its excellent cuisine and its traditional hospitality but also for its beautiful mountains and ski resorts.
In recent years Uzbekistan has become an attractive destination for winter sports enthusiasts. Two hours ' drive from Tashkent, in the Tian-Chan mountains, are the best ski resorts in Central Asia – Chimgan and Beldersay. They offer you their advantages: snow quality, relief, climate.
The snow is dry and cold, suitable for skiing - in short, one of the best according to the specialists. Skis and snowboarders will find nice slopes steep enough to enjoy the descent. The routes of these resorts are among the best in CEI and meet the standards of the International ski Federation (FIS).
The resort "Chimgan" is located at 1500 m and can be recommended for family rest. There are about ten cable cars, 24 routes of various difficulty levels (mostly blue and red) starting in 1980 m.
The station "Beldersay" located at 1600 m is mainly aimed at experienced and advanced amateurs. The High part of the course is 2880 m, the total languor is about 3 km. There are 3 double-seat cable cars 2.5 km long (time of the climb – 24 min, altitude difference – 565 m), and another cable car one km long (5 min, 200 m). For real beginners, there are suggestions for walks and guided tours in the mountains of Tian-Chan.
You will be enchanted by the clear mountain air, the mild winter, the beautiful landscapes, long routes, comfortable hotels, sunny days, cable cars without tails, perfect conditions for the free-ride, backcountry, heliski, Eastern markets and traditional Uzbek hospitality.
The skiing season starts in early December and lasts until the end of March.
Day 1 Tashkent

Arrival in Tashkent. You will be met by a driver and transferred to the hotel. Check-in and breakfast. Free time.
At 12:00 start Tashkent city tour. You will visit the Old City part of Tashkent that includes Khast-Imam Complex and Chorsu Bazaar. After, continue to the city center to walk through Amir Timur Square, Independence Square and explore Applied Arts Museum. Free time. Overnight at the hotel.
Duration of sightseeing tour: 3-4 hours.
Day 2-3 Tashkent-Chimgana 80 km

Transfer to the Chimgan and Beldersay Ski resorts.
Ski, snowboarding, and ski touring in the ski resorts.
Day 4 Chimgana -Tashkent
Back to Tashkent. Check-in at noon. Free time. Overnight at the hotel.
Day 5 Tashkent -Samarkand
At 07:00 transfer from your hotel to the railway station. The high-speed Afrosiyob train departs Tashkent at 08:00 and arrives in Samarkand at 10:10 (300 km). Your guide and driver will meet you at the train station to begin the city tour in Samarkand. Visit spectacular Registan Square, remains of Bibi-Khanum Mosque, Siyob Bazaar, Ulugbek Observatory, Shakhi-Zinda Necropolis, and Gur-Emir Mausoleum – the mausoleum of Amir Timur. Overnight at the hotel.
Duration of sightseeing tour: 6-7 hours.
Day 6 Samarkand
Continue sightseeing: visit the Afrasiab Museum and the Tomb of Saint Daniel. Then drive to Konigil village to explore the traditional way of making Samarkand paper from mulberry. Enjoy free time with a car and driver at your disposal after a sightseeing tour. Overnight at the hotel.




Duration of sightseeing tour: 3-4 hours.
Day 7 Samarkand -Buhara
At 08:40 transfer to Samarkand train station. The high-speed Afrosiyob train departs Samarkand at 09:43 and arrives in Bukhara at 11:17 (300 km).
Transfer to the hotel. Explore Kalyan Minaret, Kalyan Mosque and Miri-Arab Madrasah, Magoki-Attori Mosque, madrasahs of Ulugbek and Abdulazizkhan, trade domes, Lyabi Hauz Ensemble, Chor-Minor Madrasah, Ark Fortress, Bolo-Khauz Mosque, Samanids mausoleum, and Chashma-Ayub mausoleums. Overnight at the hotel.
Duration of sightseeing tour: 5-6 hours.
Day 8 Buhara-Tashkent
Start the second day in Bukhara discovering Sitorai Mokhi-Khosa – the summer residence of Bukhara's last emir, a unique site combining Oriental and Russian architecture. Continue to the Mausoleum of Bakhouddin Naqshbandi. At 14:50 transfer to Bukhara train station. The high-speed Afrosiyob train departs Bukhara at 15:55 and arrives in Tashkent at 19:40. Transfer to the hotel. Overnight at the hotel.
Duration of sightseeing tour: 3-4 hours.