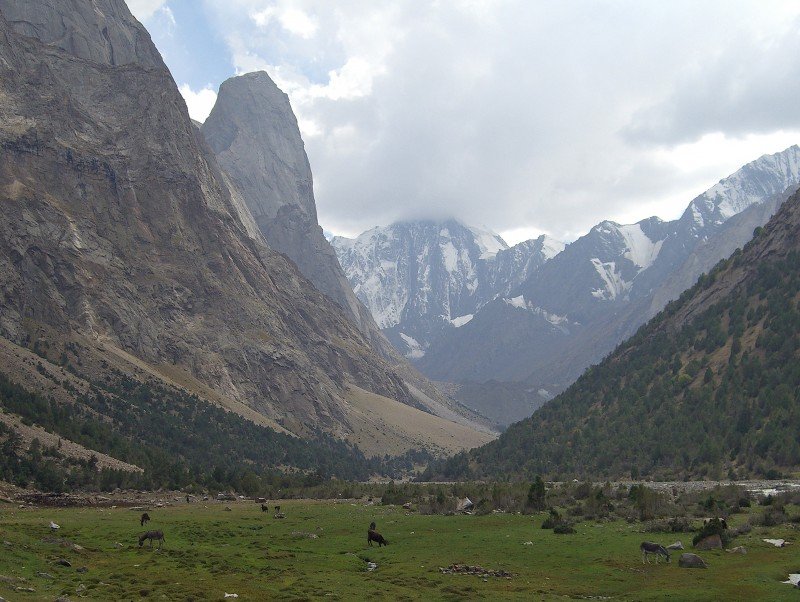 Trekking tours in Asian Patagonia
Itinerary: Uzgurush village – Buldzhuma pass – Dzhalgychy pass – Ortochashma gorge- Kosh Moynok pass– Kara Suu gorge – Kosh Moinok pass –Orto-Chashma gorge - Ak Tubek pass – Ak-Suu gorge –Uzgurush village
The nature of Kyrgyzstan is amazing. Its mountain landscapes are various in different corners of the Republic. «Central Asia Tours» presents a new trekking program that goes along the gorges of the Turkestan mountain range and takes you to the heart of the Pamir-Alai mountain system, right to peak Ak-Suu. Turkestan mountain range region is quite interesting and unusual. It reminds South American Patagonia – same wilderness, winds blowing through, mountain streams with pure water, alpine meadows, herds of yaks grazing peacefully, glaciers surrounded with 5000+ meters Peaks and not a sign of civilization…
But still, there is one significant advantage of Asian mountains from the South American analog –stable and warm weather. The mountain trails going above the steeps, wild nature, panoramic views of the canyons crowned by snow-white peaks and treks to the foot of peak Piramidalnyi (5509m), which is the highest point of Turkestan range, peak Ak-Suu (5355m), Slesova (4240m) – all these will leave an unforgettable impression on everybody!!!

1 DAY
Day 1.Osh – Uzgurush village. (1450 m.)
Transfer Osh to Uzgurush village, the drive takes us about 7 hours. Lunch in a local Kyrgyz family house.
2 DAY
Uzgurush village – Ak-Tash (2500 m.)
17 km, 7-8 hours, +1444 / -394 m.
The first trekking day starts from the views of wild pistachio tree and walnut orchards. Wild trail stretches along Buldzhuma river and goes up to the pass with the same name – Buldzhuma (2894m). From the pass, you can enjoy the wonderful view of the nearest gorges and the Western face of the peak Piramidalnyi and the peak Orto Chashma. After we enjoyed the views, we start descending to the valley of Ak-Tash river. There is the tent Camp Ak-Tash hidden among the bushes on a green meadow.
Overnight in tents in Ak-Tash. (2500m).


3 DAY
Ak-Tash – Orto Chashma (2800 m.)
16 km, 6-7 hours, +1274 / - 974 m.
We traverse along Ak-Tash river on screen up to Dzhalgychy pass (3774m). From the top of the pass we enjoy the panoramic view of Turkestan mountain range. Descend along a trail down along Dzhalgychy river till confluences with Orto Chashma river.
Overnight in tents in Orto-Chashma. (2700m).


4 DAY
Orto Chashma – Kara-Suu tent camp (2800 m.)
16 km, 7-8 hours, +960 m./ -960 m.
Crossing Orto-Chashma river on horses, then down the water flow, on a good trail till the start of the ascent to Kosh Moinok pass (3700 m). The serpentine trail goes through a juniper forest, passing by a cool spring and finishes at the saddle of Kara Suu pass (3760 m). From the top of the pass, we have a wonderful view of an "ocean" of pointed snowcapped rocky peaks of the Turkestan mountain range. We face a row of "fortresses" of North-Western faces of the peaks Kotin (4521 m), 1000-anniversary of Kreshenie Rusi (4507 m).
Overnight in tents in Kara-Suu Tent Camp


5 DAY
Radial hile to the foot of Slesov peak.
10 km, 6 hours, +200 m. / -200 m.
Radial hike to Ak Suu gorge towards Slesov peak.
Peak Slevov (4240m) looks like a monolith rock wall when you reach it from Ak Suu gorge. This is probably who foreigners call it Russian Tower. Peak 4240 – this is the official geographic name of the peak. Alpinists from Rostov city, Russian Federation named it Slesov in the memory of their countryman, a famous alpinist Ivan Slesov.
We also see peaks Orto Tubek, Ptiza, 4774, 4810.
Overnight in tents in Kara-Suu Tent Camp.
6 DAY

Kara Suu – Orto Chashma (2800 m.)
16 km, 8 hours, +960 m / -960 m.
Over Kara Suu (3760 m) and Kosh Moinok (3260 m) passes we get back to Orto Chashma tent Camp again. This pass is very interesting: it is divided by a small flat spot in two parts.
Overnight in Orto Chashma.

7 DAY
Orto Chashme - Ak-Suu (2800 m.)
15 km, 8 - 10 hours, +1590 m / -1590 m.
Moderate ascent along Orto Chashma river till coinfluence with Ak-Tubek river. Then we continue along Ak-Tubek river and traverse up to Ak Tubek pass (4390 m). The hard ascent is rewarded by a majestic panoramic view over the Iskander peak region and Orto Chashma river valley. Our Camp is situated at the beginning of the green zone at Ak-Suu river. On the way, you can see the alpinist walls of Iskander (5120 m), Petrogradez (5165 m), Admiralteez (5090 m), Aksu (5355 m), A.Block (5229 m), Aktubek (5125 m) peaks.
Overnight in Ak-Suu tent camp.


8 DAY
Radial hike to Uryam pass (3760 m.)
12 km, 6 hours, +960m/-960 m.
A beautiful view opens from Uryam pass over to the neighboring gorge and a river and a amazingly beautiful Peak called Parus (Sails) (5035m). You also can see the panoramic view of Ak Suu gorge, Dostoevskii peak (4974 m) and peak Sabakh (5300 m).
Overnight in tents in Ak-Suu tent camp.
9 DAY
Ak-Suu – Uzgurush village.
18 km, 6 hours, -1350 m.
Descent through juniper forest along Ak-Mechet river. We can observe the peak Iskander on the way. Then we trek along a picturesque green gorge till Uzgurush village.
Overnight in a Kyrgyz family in Uzgurush village.
10 DAY
Transfer Uzgurush village to Osh
Accommodation in a hotel in Osh.


11 DAY
City tours in Osh.
Tours Sulamian too City tours
12 DAY
Home flight
Morning transfer from the hotel to the airport. Home flight